after my
long travel day
, I slept well. my friend's wife is an interior designer, and their spare bedroom was even more comfortable than it was beautiful. the fresh cut lilacs on the side table wafted into my senses, gently waking me up.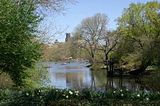 my friend had left for work much earlier, so his wife S and I enjoyed coffee and quality play time with their new puppy. she asked what my plans were, what I wanted to see. more things than I could fit into my short stay, so I opted to wander and relax.
still unsure of my subway savvy, I thought wandering Central Park would make a great morning, since they lived only a few blocks from the park. after The Lake I happened upon Belvedere's Castle.
it was a perfect spring day. meandering through the paths in the park. through Shakespeare's Garden. around the beautiful trees. the blooming cherry blossoms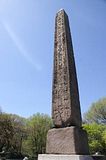 I sat and enjoyed the sunshine on a bench near Cleopatra's Needle.

I thought it interesting that the inscriptions on some of the sides of this obelisk were barely discernable. yet on others they were quite apparent. I found out later this is due to the air pollution in the city. a sad fate for an ancient obelisk.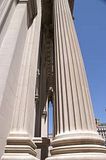 next I made my way to the front of the Metropolitan Museum. it's an amzing building. beautiful architecture. so many people enjoying the beautiful spring day on its massive steps.

I didn't have time to wander its halls, as I had lunch plans with S and a friend of hers. but I had to peer inside and confirm that the interior was nearly as breathtaking as the exterior. and, of course, it was. I made a mental note to get back there, and soon.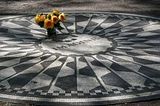 on my way back across the park to lunch, I stopped by Strawberry Fields, where I took a moment to reflect near the memorial to John Lennon.
Imagine