after spending most of the weekend with my family, I was ready for some
me
time on Sunday. I was about to head out the door to walk TheDog to get some coffee, when the phone rang.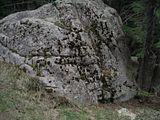 it was J. the offer of a short hike was made. I had to accept. I hadn't been on a decent hike for a while. and I hadn't spent much time with J recently.
we headed up the hill. it was hot already, so we set out in search of a cooler place to hike. we settled on a moderate hike up to a waterfall.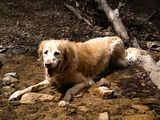 the trailhead had too many cars. but we knew of nothing else close, and we'd already driven a bit to get there. we decided it would do.
the trail rose abruptly at first, winding through stands of pine trees. past huge boulders.
TheDog kept looking for water. although, there wasn't much to be found, she took every opportunity to cool off in the small pools along the way.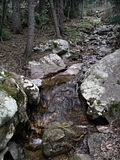 we finally got to the falls. with the dry conditions, there wasn't much water to fall. amazing at this time of the year, the time that is supposed to be the highest run-off of the season.
despite the lackluster end of the hike, we relaxed on a rock and enjoyed the beautiful day. it was getting cloudy so we hurriedly finished our granola bars and headed back down the trail.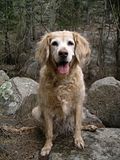 it was a great escape from the city. from the heat. we enjoyed our hike, but not as much as TheDog did.
as we got back into town, we decided to grab dinner on a patio. the green plants on the patio were a stark contrast to the dry mountainside we were walking on an hour before.
even when nature disappoints a little, friends are there to make lazy Sundays anything but that.